Project Background
The project, foundation support by soil nail, is phase Ⅱ of Liaocheng People's Hospital Medical Care Center, a key project of Shandong of CNY 143 million. The project is a medical development project with a total construction area of 89,481 m2, including a 13-story ward building. The R51 self drilling soil nail system with spiral blade is used as the prestressed anchor rod, and the drilling depth is 18-22m.
Project Overview
| | |
| --- | --- |
| Project Duration | September 2020 – March 2021 |
| Service Scope | Anchoring materials and on-site technical services |
| Application | Building foundation support |
| Application Structure | Self drilling anchor bars used as prestressed anchor rod |
| Quantity Consumption | About 10000m |
| Geological Conditions | The foundation earth layer in the proposed construction site is Quaternary Yellow River alluvium and artificial fill within the exploration depth. The soil layers within the excavation area are miscellaneous fill, silty clay, silt-containing sand, silty clay, silt, silty clay, silt and fine sand. |
Questions and Challenge
The base elevation of the foundation is -13.6m. It adopts soldier pile support, with double- row piles or triplex rows piles and the effective pile length is 21.5m. The pile top is equipped with a crown beam. The row pile top is equipped with reinforced concrete slabs along the periphery of the foundation. 1-3 row R51 self drilling anchor bars were installed, and the length is 15-22m. Foundation slope is placed with wire mesh and sprayed concrete, and single-layer steel fabric is placed. The incident angle of anchor bar is 25°, and it passes through waterproof curtain of mixing pile and existing supporting pile and enters foundation piles of the existing building.
Solutions
Spiral blades of Ф150mm are installed at the end of anchor bar to enlarge hole diameter. It adopts rotary drilling method and synchronous drilling and grouting construction process to achieve drilling, grouting and anchoring at one time. The grouting liquid is cement grout, and the water-cement ratio of the primary and secondary grout is 0.5-0.55. When the strength of the anchor section is greater than 15 MPa and not less than 75% of design strength, the prestress shall be applied and the magnitude shall be 0.9-1.0 times the design load. Install breast beam, plate and nut, and finally use the hydraulic jack to tension and lock it according to design requirements.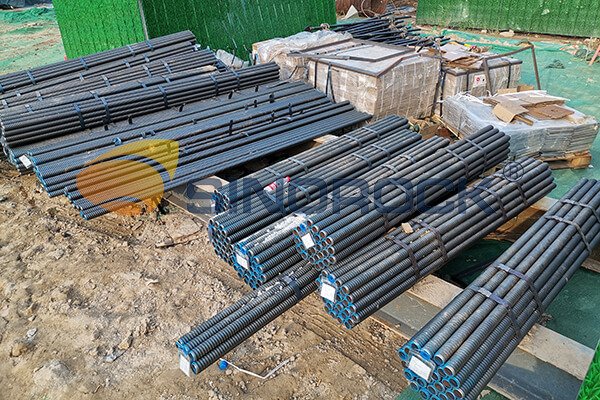 Construction Process
Materials prepared → Drilling rig in place → Connect hollow anchor bar and drill bit → →Simultaneous drilling and grouting→ Couple next anchor bar → Repeated drilling and grouting → Drilling completion → Install breast beam and anchor head →Tensioning and locking → Install next row anchor bar → Installation completion
Construction Equipment
Drilling Rig: Crawler hydraulic drill
Construction Efficiency: The average net drilling time for a single hole is 0.77 minute.